Post by Swarm on Jun 20, 2022 16:00:04 GMT -5
Abadi Global Enterprises & Wrestlingfigs Present...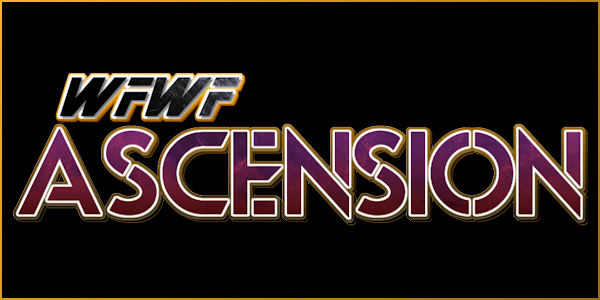 WFWF Ascension!!!
Coming LIVE from the Chesapeake Employers Insurance Arena in Baltimore, Maryland!
WFWF Ascension Official Theme Song!
"Chin Up High"
Ame Bibabi
~~~
The Main Event!
The "Monster" Returns!
30 Minute Time LimitAlex Sean
vs.
DAVID HANDLECATCH!
Showtime. Archetype. Constant. Monster. To some, these are four random words strung together. To others, they are the mostly-unmarketable and in-retrospect cringey nicknames of Alex Sean. The Monster is pretty cool though. Alex Sean is a WFWF legend of the highest order. A four time World Heavyweight Champion, three-time headliner of SuperBrawl, and a two-time inductee into the WFWF Hall of Fame. After eleven years away from the WFWF and nine years from active competition entirely, Alex Sean makes his return in the main event in front of a hometown crowd! Standing across the ring from him will be the also returning and inimitable DAVID HANDLECATCH!; Master of the style of "BURNING LOVE!". Will HANDLECATCH!'s love burn Alex Sean? Could DAVID end the honeymoon period before it even begins and deliver an upset for the ages? Only time will tell but we sure are glad to see Alex Sean again! How fun!
~~~
#1 Contendership for the WFWF Vanguard Championship
20 Minute Time LimitM̴̊͐E̴̓͘S̷͑͝H̶̾̐
vs.
POISON
In a contest as consequential as it is sure to be entertaining, longtime fan-favorite M̴̊͐E̴̓͘S̷͑͝H̶̾̐ returns to take on promising newcomer POISON for a shot at Johnny Mason's WFWF Vanguard Championship. M̴̊͐E̴̓͘S̷͑͝H̶̾̐ has been missing in action since her devastating bout at SuperBrawl XI against Johnny Mason; A bout that left her bloodied and unconscious. Meanwhile, POISON made an impressive debut at The Coming defeating fellow newcomer Chris Priceless in an exciting bout. Indeed, it was POISON who was Coming. While surely M̴̊͐E̴̓͘S̷͑͝H̶̾̐ is the odds-on favorite, little is known about her status over the past year and some have speculated her years as a high-risk competitor may finally be catching up to her. Will M̴̊͐E̴̓͘S̷͑͝H̶̾̐ assert her position in the WFWF and set herself up for a rematch with rival Johnny Mason or will POISON make his mark by defeating one of WFWF's most beloved stars?
~~~
Sit-Down Interview
Katherine "Kayfabe" Fabiani
interviews
EBR
Of the many announcements that were ... uh ... announced at Bobby Abadi's Ascension press conference, perhaps none were as noteworthy as the reveal that not only would the tour culminate with the revival of Scars & Stripes, but that it would be headlined with a World Heavyweight Championship clash between returning champion Josh Dean and the official, undisputed, reigning number one contender EBR (Alex Sean's return was a close second). In the weeks that followed EBR has made the rounds appearing on various talk shows and promotional events in an effort to help spread the word of the WFWF's resurgence, and he looks to continue that momentum with an exclusive sit down interview with resident WFWF reporter Katherine "Kayfabe" Fabiani (editor note: erroneous report, EBR is available and accepting all interview requests). It's been over a year since EBR was last seen in a WFWF ring and Fabiani looks to get to the bottom of what EBR's been up to in that time, as well as his thoughts on the upcoming title match, his future in the WFWF, his bond with WFWF CEO Bobby Abadi, and a possible friendship with Billy Ocean. And who knows, we might even get a surprise appearance from his wife - platinum selling recording artist and global superstar Shelia Helena Espindola! (editor's note: it has been confirmed to us that we will not). With EBR sitting down with acclaimed reporter Katherine Fabiani there's only one thing we can be sure of - excitement, she (we mean Katherine) wrote (there will be a transcript).
~~~
Special Announcement
Bobby Abadi
will make a Special Announcement for
Scars and Stripes
At the official press conference for the WFWF Ascension Tour 2022 it was announced that the tour would be concluding with the return of one of WFWF's preeminent events Scars and Stripes live on pay-per-view! It was announced that current WFWF Champion Josh Dean would defend his championship against WFWF legend and two-time Hall of Fame inductee EBR in the main event but much of the upcoming pay-per-view has still yet to take shape. That will change as in addition to the number one contender's bout between M̴̊͐E̴̓͘S̷͑͝H̶̾̐ and POISON, Bobby Abadi will make what he claims will be a huge announcement for the event! What could it be? There's only one way to find out!
~~~
Singles Showcase
10 Minute Time LimitReverend Shadow
vs.
TITUS
Few have had a career of the caliber of Reverend Shadow. His Hall of Fame WFWF career has spanned almost two-decades and led to his reign as champion, as owner of the WFWF during the Higher Authority era, and as a figure of impact and often controversy. Most recently, Shadow was seen facing a fellow legend in DGX at SuperBrawl XI dropping a close battle that thrilled longtime fans of the promotion. Now, he is set to square off with newcomer TITUS. Little is truly known of TITUS but he claims to reside in Uranus after emigrating from the de-planetized Pluto. He appears to be a clear example of immigrant work ethic as he also claims to be the reigning, defending, and undisputed Crab Nebula Interstellar Champion. While the lineage of this title cannot be confirmed it is claimed its history dates all the way back to the old ones going back to before there was light and the universe was only a dark vacuum powered by the inherent entropy that governs all things. Which certainly makes this match an intriguing encounter, I guess.
~~~
Tag Team Showcase
10 Minute Time LimitThe Daughters of Kaos
in
Tag Team Action!
When we last saw Scarlett Quinn and Penny Shannon, they were both seemingly focused on singles careers having some exciting encounters with the likes of EBR and DGX. Now, nearly a year later, The Daughters of Kaos return to the tag team division; Something privately Bobby Abadi has indicated he wishes to focus on moving forward in the new and improved WFWF. What better way to emphasize that than by showcasing the Daughters of Kaos on the first show in some exciting tag team action!? That question was rhetorical this is the best way.
~~~
* Deadline for RPs is Monday, June 27th at 4:59 PM EST. *