Post by Swarm on Jul 2, 2022 17:58:06 GMT -5
We fade in from black to a hot Summer night in Baltimore, Maryland. The Chesapeake Employers Insurance Arena is dimly lit filled to... near... capacity?
... Let's call it an INTIMATE setting. The fans in attendance are buzzing. Not literally. Maybe some of them actually. There is a palpable vibe in the room; A room that smells recognizably of Old Bay seasoning. After several moments, the arena lights turn on prompting an enthusiastic response from the crowd!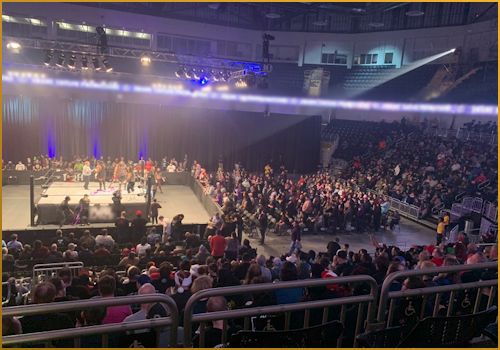 A few strategically angled crowd shots are seen before we cut to the hard camera angle where Alecia Matthews, Matthew Werner, and WFWF Legend Kurt Burton are standing in the ring. Matthews and Werner (boy that's gonna be fun to work with moving forward... maybe we should have brought Matt Steel back...) are standing front and center each holding microphones while Kurt Burton lumbers from ring side to ring side playing to the fans!
An uninitiated viewer might think these folks got lost on the way to M&T Bank Stadium but people in Maryland actually just sort of dress this way. Alas, they are being riled up by Burton who is in turn feeding off of their energy! It's a feeding frenzy in Mobtown! I DON'T KNOW HOW WE'RE GONNA SETTLE THESE FOLKS! In his excitement Kurt Burton decides to TEAR HIS SHIRT OFF!!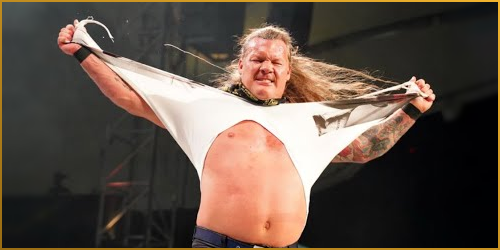 The crowd is aghast, and these people remember when Kyle Boller was the starting quarterback for the Ravens. Burton, as notorious for his inability to read a room as his love for Red Vines cups his hand to the ear for the crowd's approval!
... That about settled things down. That and the looming sleepiness from the amount of crab pretzels consumed this afternoon. Alas, Alecia Matthews reads the situation and begins her introductions.Alecia Matthews:
Hello Baltimore!
Yayyyy!Alecia Matthews:
Thank you all so much for being here with us as well as everybody watching live at home! Matthew, this is quite the crowd isn't it?
One of the tarps begins coming loose on the upper deck prompting the hard camera operator to pan downward a little.Matthew Werner:
For sure, Alecia! I haven't seen this much energy in this town since Ray Lewis was acquitted for murder!
The crowd kind of cheers but in that "yeah maybe he did kill those guys but the rings tho" kind of way.Alecia Matthews:
... Thanks... Matthew... Of course we do have some bad news for you guys tonight. Unfortunately, due to travel issues both the Daughters of Kaos and Reverend Shadow were unable to make it here tonight.
Booooooo!Matthew Werner:
It's true. The Daughters of Kaos' flight from Arizona was cancelled last minute and since Reverend Shadow is, from what we understand, from the sunken city R'lyeh deep beneath the South Pacific... Suffice it to say we're not entirely sure of the situation there but it could possibly involve the emergence of some sort of cosmic being emerging from the black depths of the Pacific which, if true, will most certainly be heading toward us to doom us all to a thousand years of unspeakable horror and darkness.
I mean real talk that might be an improvement at this point. Suffice it to say I for one welcome our new dark overlord and would be... Oh hey, Kurt Burton just grabbed Werner's microphone!Kurt Burton:
ENOUGH OF THIS DEPRESSING CRAP! HIT THE BRICKS MATTHEW WIENER!
Matthew Werner:
Kurt Burton:
Turning to Alecia Matthews.
YOU TOO! BYE ALECIA!
Alecia Matthews:
...
Sigh.
The joke is Bye Felicia but...
He fist pumps. Like he does that a lot anyway so maybe I don't need to point it out but... Anyway, Burton turns his attention to the crowd.Alecia Matthews:
Ooohhhhhh kay....
With that, Alecia Matthews and Matthew Werner exit the ring leaving Kurt Burton to hold court for the fans attendance.Kurt Burton:
YOU ALL EXCITED FOR TONIGHT'S SHOW?!
Sure yeah I think it's gonna be...Kurt Burton:
COME AWN BAY-BAY! ARE YOU GUYS EXCITED OR WHAT BALTIMORE!?
Yeah you know what yeah! I...Kurt Burton:
LET ME HEAR YAA SHOOUUUT CHARM CITY!
YESS! LET'S DO THIS! AAARRRGGGHHH!Kurt Burton:
J'YEAH!
Breathing heavily... still... maybe he needs help... okay he's pulling it together.
LADIES AND GENTLEMEN, WELCOME TO WFWF ASCENSION!
And with that, the live shot fades to black as an image of the WFWF logo appears.

After a few moments the opening synth to Ame Bibabi's.... hit.... song.... "Chin Up High" begins to swell!The drums kick in with a rolling fill matched by the WFWF logo strobing in alternation with the music video for the song. The beat kicks in and we see the Dutch dynamo herself!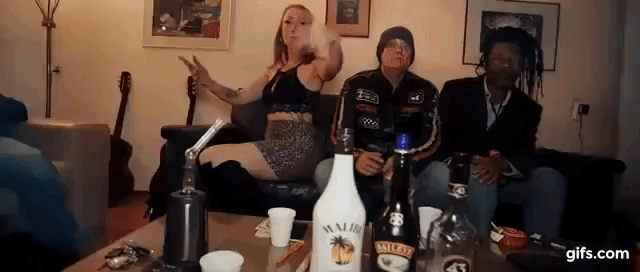 The baddest mamacita in Haarlem wastes no time busting out her sick rhymes as we get an assortment of shots of what appears to be just some person's apartment complex.
With my chin up high
f*** 'em all, f*** 'em by
You think I'm ugly? I don't care
You think I'm dumb? I don't care
You think I'm scum? I don't care
B****, I make my money
As she drops the hook to this absolute banger clips of the WFWF begin to alternate with clips from the video.
P-p-p-p-p-p-p-p-party 'til I die
With my chin up high
F*** 'em all, f*** 'em by
T-t-t-t-t-t-t-t-t-t-t-t-twerk
Like it's my last day on this earth
Let that dollar make her work, work
We cut to a quick succession of clips of many of the WFWF's contemporary stars. Trace Demon. Shuggy. WFWF Vanguard Champion Johnny Mason. WFWF World Heavyweight Champion Josh Dean. These images are followed by Ame twerking like last it's her last day on this earth.
POISON delivering the POISON Bomb to a prone Chris Priceless. Reverend Shadow planting an opponent with his patented Implant DDT the Alpha with a hastily applied red X over the footage. Still more twerking.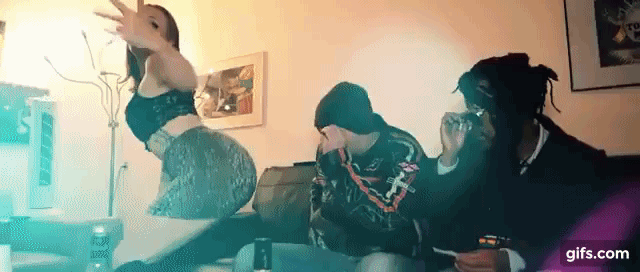 People always hate me
But the more they hate, the more I work
Everybody say they're lit, but all they do is showing sh**
In my street, like they're slaves, b****es always kiss my feet
Stay out of my way, you b****, I can't deal with your fake-ass meat
DAVID HANDLECATCH! losing to some of the biggest stars in WFWF history; A look in their eyes revealing the extent of their relief for narrowing avoiding his devastating KIMURA! Ame continues showing the extent of her gangsta lifestyle assuredly involving dealing with many, many haters.
They thought that I had stopped, it was over, I had dropped
B****, I had my plans out here, I'm only just at my start
You will have to kill me to make me f***ing stop
I was already dead again, you can't hurt me, only God
"The Princess of Wrestling" Scarlett Quinn appears, similarly obscured by a giant red X, delivering her flying Super Kick the Drive-By Kiss. We then cut to footage of a man in a spacesuit bopping around on the moon; One assumes due to the lack of available footage of the Undisputed Crab Nebula Interstellar Champion TITUS! This is followed by Ame Bibabi firing what appears to be some sort of confetti gun.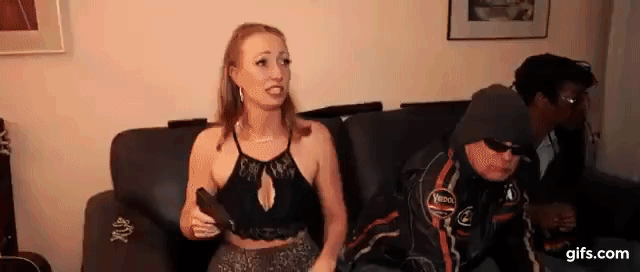 P-p-p-p-p-p-p-p-party 'til I die
With my chin up high
F*** 'em all, f*** 'em by
T-t-t-t-t-t-t-t-t-t-t-t-twerk
Like it's my last day on this earth
Let that dollar make her work, work
P-p-p-p-p-p-p-p-party 'til I die
With my chin up high
F*** 'em all, f*** 'em by
T-t-t-t-t-t-t-t-t-t-t-t-twerk
Like it's my last day on this earth
Let that dollar make her work, work
We see WFWF fan favorite M̷͇͙̱̏͜͝ͅ3̵̈̐͘̚͜͝S̵̡̝̺̖̑H̸͙̊͋̂ delivering her front flip piledriver the Raze followed by a clip of Penny Shannon landing the Liberty Cap; As you would expect covered by a large red X. Cut back to Ame doing that bouncy little elbow dance she does.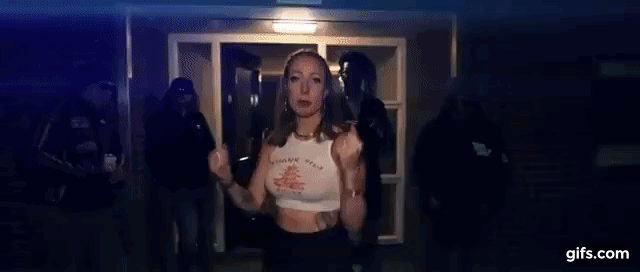 I ain't scared of death, but I fear them is dead as breath
All the drugs in your face, I am blessed with the smartest brain
I remember your laugh when I was at my worst
Let me tell you, piece of scum, I'm supported from above
Your man in my DM's, while you talking sh** behind my back
All the sh** you said made you look like a little b**** like that
Your opinion, b****, f*** that, what do I think of you?
How I laugh in your face? B****, if you only knew
Ha-ha-ha, ha-ha-ha, ha, ha-ha-ha
Cut to an assortment of clips of Alex Sean, predominantly from his last run in the XWA. Sean Lariats a concerningly overweight Derrick Jedi. Anybody check to see if that dude's okay lately? Anyway, this is followed by more clips concluding with Sean choking Trace Demon out with his Anaconda Choke the Quoth the Ravens. This image begins to alternate with Ame Bibabi as she ha-ha-ha's in the faces of her foes.
P-p-p-p-p-p-p-p-party 'til I die
With my chin up high
F*** 'em all, f*** 'em by
T-t-t-t-t-t-t-t-t-t-t-t-twerk
Like it's my last day on this earth
Let that dollar make her work, work
Sh-sh-sh-sh-sh-sh-sh-sh-shake that moneymaker
In my face, it's a favour
Ooh, I love your misbehaviour
Ame repeats this final triplet of p's, t's, and sh's. The song begins to fade out as we see an image of EBR standing front and center from the WFWF Ascension Tour 2022 Press Conference. Cut back to Ame as she appears to be phasing out of reality then bounces some more as cartoon money rains from the sky.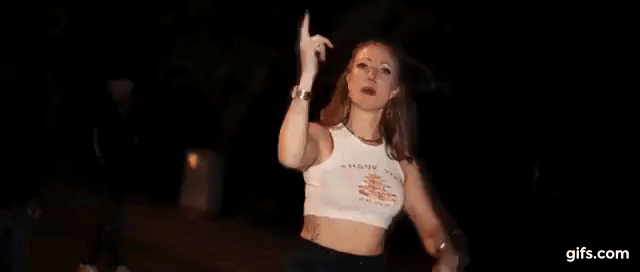 As the song finishes fading out we cut back live to the Chesapeake Employers Insurance Arena where Ame Bibabi's anthem in honor of twerking switches to "Groundbreaker" by Mohamed Ragab blasting through the speakers and causing a surge within the crowd as the minimalist beat builds to that bass drop.
...
There it is.Alecia Matthews:
Gentlemen our first match here tonight at the fourth vicennial Ascension is to determine the new No. 1 Contender for the Vanguard Championship. Johnny Mason, if our viewers recall left SuperBrawl XI without his advocate or his championship belt so you can bet that he's paying very close attention to this match!
Kurt Burton:
OH YOU BET YOUR BOTTOM DOLLAR HE IS! J'YEAH!
One can only assume he fist pumped.
WHAT A DECISION TO START THIS SHOW OFF WITH THIS MATCH!
Matthew Werner:
Well as of now there are only two matches officially scheduled so...
Kurt Burton:
CRAM IT, MATTHEW WIENER!
Matthew Werner:
Sigh.
... So that's just... gonna be a thing now isn't it....
The stage is illuminated with rainbow lights followed by a strobe light of flashing, white lights that mimic the beat of the song. The audience claps in an attempt at rhythm harmony however both their lack of rhythm along with their meaty forearms smacking against another off-time with the beat... Look they're trying their best. Still, this electronic, upbeat, pulsating music that oozes energy could only mean one person. Once that wah-wah and distortion of the bass pounds the speakers, from the behind the curtain, she makes her appearance and the crowd goes wiiiillllldddd!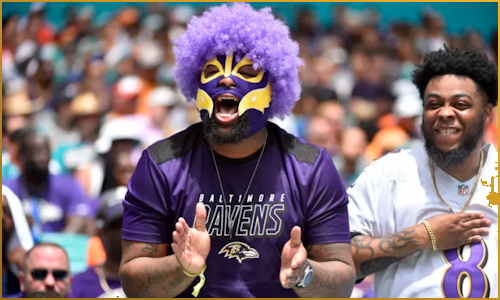 Daehyun Moon:
The following contest is scheduled for one fall! Introducing first! From Los Angeles, Californiaaaaahhhh..... MmmmmmmmmmmmmmmmmmmmmmmmmmESHhhhhhhh!
The Mesh from old is back! From the ashes of what occurred to her at SuperBrawl, she emerges, dancing to the beat of her new entrance music. The kandi bracelets are back. Atop her now platinum hair are bunny ears. The tutu is back, only now there is a small blue bunny tail behind it. The furry boots are back.Alecia Matthews:
Good to see the year of inactivity did wonders for Mesh! She looks more like herself than the last time we saw her.
Kurt Burton:
So this is the world famous Mesh I keep hearing about? Looking forward to see if she's still able to ROCK AND ROLL BAY-BAY!
She dances her way down the entrance ramp, high-fiving and hugging her loyal members of The Good Vibe Tribe who have waited over a year to see her back to her former self. One fan in particular, a young girl is seen crying in the shoulders of her mother as Mesh pats her on the head, giving the young fan one of her kandi bracelets. Mesh climbs inside the ring and stands on top of the turnbuckle, taking in the overwhelming response from the fans. She smiles and blows kisses to all of them.Matthew Werner:
She certainly appears to be in good spirits however one does have to wonder, once that bell rings, whether she truly has recovered from the damage she endured prior to the WFWF's hiatus.
"Stairway to Heaven" then begins to play through the speakers of the arena. Mesh's expression, while perched on the turnbuckle, changes. POISON makes his way through the curtain, holding a chair that has "ASCEND" spraypainted on it.Daehyun Moon:
And her opponent! Weighing in at two hundred and nine pounds... POISONnnnnnnnnnnnnnnnnnnnnnnnnnn!
Alecia Matthews:
POISON, as I'm sure you can fill us in on Matthew, was having quite the run of success prior to the... as you put it... hiatus.
The ghost of air quotes hang thick in the air.Matthew Werner:
Uh... Well...
Sound of papers shuffling.
... As we know... He is...
Alecia Matthews:
... He debuted at Survival of the Fittest 2020...
Matthew Werner:
Yes! And uh...
give me just one moment here...
Alecia Matthews:
... Of course it took two men to eliminate him from that. He also had just gotten an impressive victory over Chris Priceless at The Coming.
Matthew Werner:
Uh... Yes. And you know, what's clear is... um... POISON is a rising star. This new WFWF... well.. it's a hotbed for competition and... ambition. It's time for these guys and gals to be doing what they've been doing and that time... is... now.
Kurt Burton:
Beautiful, Matthew!
Matthew Werner:
Modestly.
Thank you, Kurt.
Alecia Matthews:
... Yeah... Thanks, Matthew...
POISON walks to the ring not acknowledging any of the fans asking for a high five. POISON slides the chair into the ring, and hops onto the apron. POISON slings himself onto the ring and rolls out to his feet. The piercing eyes of POISON follow Mesh around the ring. Like a shark, his eyes remain fixated on his opponent. The music fades to silence then, at long last, the first match of the new WFWF is underway as the bell rings thrice! The two combatants circle the ring, waiting for the right opportunity to make the first move. The Baltimore crowd is feverishly roaring for Mesh as they chant her name, louder and louder each time.Alecia Matthews:
I've heard these crowds go absolutely NUTS for Mesh many times before, but you never get used to that reaction!
Kurt Burton:
What was that? I CAN'T HEAR YOU! AH-HA!
Alecia Matthews:
I said you never get...
Kurt Burton:
No I was... doing a thing...
Alecia Matthews:
Oh right, sorry.
The crowd reaction seems to be energizing Mesh as she shakes his fists with each pass around POISON whose sight remains glued on his opponent. After much anticipation, they lock up. POISON towers over Mesh but her fight and resilience are much bigger as she tries to gain the advantage early on in the match. It appears like Mesh is going to strike first but suddenly, POISON twists his body to the left and causes Mesh to fall onto her feet, followed by a loud roar! His eyes widening and veins bulging on the side of his neck. She looks on, startled.Matthew Werner:
A lot of intensity shown by POISON here.
Alecia Matthews:
You speak to the guys in the mail room? He's an interesting guy... Let's leave it at that.
Mesh lifts herself off the mat and circles around the ring again, creating some distance between them until they lock-up again. With such ease, POISON is able to toss Mesh aside again!Matthew Werner:
The ring rust is definitely showing here. Mesh better be careful to not make a mistake.
Alecia Matthews:
POISON is not a gimme match for her. Mesh is certainly the odds-on favorite...
Kurt Burton:
Yeah I got a few hundred bucks on her.
Alecia Matthews:
I'm pretty sure in your position that is illegal or, at very least, deeply unethical.
Kurt Burton:
Oh... I said... pucks... on her.
Matthew Werner:
You have a few... pucks... on her?
Kurt Burton:
YEAH BAY-BAY! I GOT PUCKS FOR DAYS ON THIS TUTU LADY! YOU DON'T KNOW NOTHIN' ABOUT NOTHIN'... WIENER!
They lock up again and POISON tosses Mesh aside but this time, he approaches her in the corner!
Mesh is too quick, and she avoids being hit by the 209-pound runaway train that is POISON. He's not even fazed as he immediately follows up on the offense. With Mesh sprawled in the corner, POISON screams as he charges towards her with a running tomahawk chop!
Okay yeah fair enough, we're gonna need a new name for that one. Mesh ducks and rolls in between the legs of POISON before drilling him with a leaping forearm – but POISON remains unfazed. Mesh looks on startled as her opponent slowly turns around to face her. POISON turns to grab her, but she ducks again and starts kicking at his legs, like an ax to a tree. Her speed is too much, and she manages to avoid POISON while chipping away at his legs, using her kicks to slowly do damage over time. "The New Plague" shoves Mesh but she follows up with another leaping forearm, drilling her opponent in the head. She follows up with a stiff-looking clubbing blow to the gut, keeping the offense consistent. Mesh goes for another forearm, but POISON grabs her arm. Mesh goes for another forearm, but POISON grabs that arm, completely trapping her. She tries kicking him but, in that position, they don't register. POISON lets out another scream before headbutting her chest repeatedly!Matthew Werner:
Well that's gonna definitely end up getting screenshotted...
Werner feels the look from both Burton and Alecia.
... For... gifs... on Twitter... of course...
Mesh clasps at her chest before being shoved into the ropes again for a clothesline but she manages to duck and brings her opponent down with a drop toe hold, which prompts the crowd to lose it Enraged, he goes after Mesh but is sent to the outside after she pulls down the top rope! The crowd goes banana! Before POISON can recover, Mesh is already bouncing off the ropes and slides under the bottom rope, sending POSION crashing into the announce table with a baseball slide.Kurt Burton:
AHHH MY ANKLES! STUPID JERK-BRONIS!
Rather than jump over the rope like she used to, Mesh exits the ring and stands on the apron. POISON recovers. Referee Erik Everhard begins the countdown. As he approaches her, she follows up with a running kick to the face! POISON doesn't let up though and he instantly grabs her feet and sweeps her off the apron and in one, fluid motion he shoves her into the steel ring post, causing her shoulder to crash into the metal. POISON charges at her and delivers a big boot to her shoulder, crushing it against the steel. Mesh flails in pain!Kurt Burton:
THIS GUY IS SICK! I LIKE IT! J'YEAH!
Alecia Matthews:
No doubt POISON has one heck of a mean streak.
She rests against the barricades, creating more distance between her and her opponent but POISON is relentless. He runs towards her, his big hand extended behind him, going for another tomahawk chop to the bullseye that is her head but Mesh scurries away and he chops the barricade instead! Mesh charges towards POISON and hits a running dropkick right to the heart of "The New Plague"! The referee orders the two wrestlers to take the fight back inside the squared circle. Mesh heeds the orders from the official but POISON walks by the timekeeper's area to grab his customized instrument of destruction. POISON lets out a blood-curdling scream that echo throughout the Chesapeake Employers Insurance Arena!Matthew Werner:
Looks like POISON is wanting to do some serious damage here Glad to know we have an official like Erik Everhard who will maintain control of the ring!
The referee tries to stop POISON but he knows better. He orders the monster to put the chair back but POISON walks past the referee and brings the chair with him onto the apron.Matthew Werner:
Okay well... nevermind then.
Suddenly, Mesh slides underneath POISON's leg and pulls his legs off the apron, sending the monster headfirst against the ring apron – the hardest part of the squared circle. The count is restarted. POISON is quick to recuperate though and shoves Mesh back against the barricades. "The New Plague" grabs the chair again and opens it, sitting it in front of the commentary team.Kurt Burton:
Looks like we're getting the action live and direct...ly in front of us. That was a KRS-One reference, by the way!
Alecia Matthews:
I think more concerning is Erik Everhard's complete abdication of duty here!
Matthew Werner:
Ya know I wasn't gonna just straight up say it...
Alecia Matthews:
These are human beings!
Matthew Werner:
Certainly Mesh is! I mean we don't know, maybe POISON is some sort of... Island of Dr. Moreaux hybrid thing under there but... still... he's clearly mostly humanoid. And ya know even if he wasn't... that's okay. Because... hey... ya know... who cares, at the end of the day, right? Like so what if...
Alecia Matthews:
... You were talking about the chair... how they're humans... allowing the weapon is bad...
Matthew Werner:
Ah yes, yes. Thank you. Yeah, I'm against it. Really and truly.
POISON grabs Mesh and sits her on the chair. He then climbs onto the apron again.Alecia Matthews:
In all seriousness, what is POISON doing??
He lets out another scream before leaping off the apron – and stops himself from hitting the chair as Mesh managed to scurry out of harm's way! POISON goes for a lariat, but Mesh immediately hits him with a drop toehold onto the chair! It's Mesh's turn to climb onto the apron. The crowd is now in a frenzy! Mesh leaps off and the apron and – CRASH!Alecia Matthews:
OH MY GOD! Mushroom Stomp through the chair!
For the first time in this match, POISON is down. His arm lay sprawled away from him.Matthew Werner:
Wow! Whattamaneuver!
It's at this point we check in with Erik Everhard who, while doing absolutely nothing to prevent the flagrant use of a weapon, is at 15, the halfway mark before the count out!Kurt Burton:
Mesh better get back in that ring BAY-BAY!
With the crowd chanting her name, she grabs POISON's mask to pick him up, but she struggles to pick up the fallen monster. She's 122 pounds and POISON is 209 pounds. She manages to get his back against the apron and the referee is at 17! 18!Kurt Burton:
FORGET THAT! GET BACK IN THAT RING AND TAKE THE COUNT OUT! AUGH! WHAT A JERK-BRONI!
Matthew Werner:
Is that like... ya know what... sure.
19! Using all her might, she gets POISON into the ring, breaking the count at 19.9 seconds which causes the crowd to pop! Not wasting any more time, Mesh covers POISON! One... Two.... Three! Just after the count reaches three POISON manages to kick out! Perhaps a few seconds longer to recover, he would have continued to fight on. Alas, the bell rings; Mesh is the number one contender to the WFWF Vanguard Championship!Daehyun Moon:
Here is your winner...... MmmmmmmmmmmmmmmmmmmmmmmmmmmESHhhhhhhh!
Alecia Matthews:
She did it! Mesh is the new No. 1 Contender for the Vanguard Cahmpiobnship! Mesh/Mason II is happening!
The crowd comes unglued as Mesh's arm is raised as the victor, conquering the monster in her first match since 2021. She can't help but smile.Matthew Werner:
This is a great moment for Mesh! To endure what she did, have this year-long hiatus, come back in the first match of the new WFWF and win impressively, I'm sure she's feeling great!
Suddenly... Choir voices echo through the arena speakers following a barrage of drums.
Oh, I'll never kill myself to save my soul
I was gone, but how was I to know?
I didn't come this far to sink so low
I'm finally holding on to letting go
Kurt Burton:
UH-OH! Business is about to pick up!
I'll never kill myself to save my soul
I'm finally holding on to letting go
I'm finally holding on to letting gooooooooooooooo!!!
The banging of the drums is metallic, causing an audible bang through the arena like shotgun blasts and the guitar rips through the speakers causing the arena to tremble until from the behind the curtain...Matthew Werner:
He's here! The Vanguard Champion is here in Maryland!
Johnny Mason has made his presence known at Ascension, making his way down to the ring.Alecia Matthews:
The last time we saw Johnny Mason was at SuperBrawl XI where not only was Mason betrayed by his former advocate, Tyson Watts but he also had his Vanguard Championship belt stolen. He didn't exactly have the greatest night.
Matthew Werner:
The certainly begs the question... what exactly is he here to do tonight?
Alecia Matthews:
There's been some... discourse over the validity of Mason's reign as Vanguard Champion since many seem to cite as Mesh being the reason Mason even won the match against Anna Ahriman at Survival of the Fittest, so he definitely has a chip on his shoulder.
Kurt Burton:
YOU TWO JERK-BRONIS ARE...
Pauses, having already called them jerk-bronis.
... DUMB! Mesh just had a battle with POISON. I bet Johnny Mason's coming to FINISH THE JOB! OH YEAH!
As Mason enters the ring, he immediately approaches Mesh and the two former rivals engage in a heated staredown. The crowd ooh and ahh in anticipation! Mason and Mesh don't say a word. They lock eyes and not one of them shows any signs of backing down. All of a sudden, Mason extends his hand out. The crowd can't contain themselves; they start chanting "SHAKE HIS HAND!"Matthew Werner:
Aw! That's really nice you guys!
The sold-out Chesapeake Employers Insurance Arena cheer on this moment but... Mesh shakes her head from side to side frantically. She begins mouthing "no" over and over in quick succession. She is very clearly shaken by... something. Mason's look of stern focus contorts into confusion then into a degree of offense as Mesh scurries out of the ring and up to the ramp.Kurt Burton:
WHAT!? HE DOESN'T ATTACK HER? SHE RUNS AWAY? WHAT IS GOING ON HERE!?
Alecia Matthews:
I don't think... This is very clearly not like her at all.
Mason stares at the fleeing Mesh as she continues muttering "no" and "I can't" over and over, periodically looking back at the ring at Mason as one would if fearful of being pursued. She disappears behind the curtain and we cut back to the Vanguard Champion. We fade to black on the confused and slighted look across Johnny Mason's face.
---