Post by warriorlynx on Dec 4, 2017 10:21:25 GMT -5
I think most people believe it was that he couldn't connect with the fans. Well he connected with kids, but lost the baby boomers and young adults I'm sure. His promos were out of this world and most of the time ridiculous. He moveset was repetitive, but I don't think that was a big issue for fans at the time. There is more to it then this and I wanted to share my ideas about why it flopped (because he was to succeed Hogan, but still drew better than some later champions).
1. THE SUPERMAN DILEMMA:
By 1990, Hulk Hogan was seen as an unbeatable champion (compare this to how threatening his opponents were in the mid-80s that would make you believe he could lose). The Ultimate Challenge was basically Superman (Warrior) vs. the Incredible Hulk (Hogan), whereby Superman triumphs, hence by beating the invincible, Warrior became even more invincible. The difference between Warrior and Superman, is that Warrior has no kryptonite and showed no emotion, which means who really wanted to see a character that could never be threatened? Sure you could "cheat" like Rude did at WMV, but that was a one time thing.
Solution:
Perhaps the Ultimate Challenge should've happened at Wrestlemania 7 instead. Hulk defeats the undefeated Mr. Perfect at WM6 (Curt was supposed to win the Royal Rumble and it might have worked if done right). Thereafter Hulk gets stripped out of the title after Earthquake squashes him so he could go do his movie, and at a tournament at SummerSlam, Warrior wins the WWF title. This sets up the Ultimate Challenge the right way.
2. NEEDING TIME AS WWF CHAMPION BEFORE FACING HULK:
Warrior winning the WWF title off of Hulk may not have been the best idea because it was basically giving Warrior his "Wrestlemania III moment" on day one. Imagine if Hulk Hogan defeated Andre the Giant at MGS in 1984; who would believe any of Hulks opponents thereafter are a threat? Macho Man didn't defeat Hulk Hogan to win the WWF title in 1988, rather he won it in a tournament by beating Dibiase and this gave him time as champion till he fought Hogan in the biggest PPV in WWF history till Wrestlemania 17 (and remember WCW was bought right before the event giving it a bigger buy). It worked.
3. RUDE WAS NOT THE RIGHT GUY AT SUMMERSLAM:
I know what you're thinking, how could he not be? Rick Rude was the only one who defeated Warrior, heck he deserved the WWF title. But think about it, don't you want the "Hulkamaniacs" to unite with the "Warriors"? You do this by setting up Warrior vs. Earthquake at SummerSlam as revenge for what Earthquake did to Warrior's "friend" the Hulkster. You could still have Rude take on Warrior at the Main Event IV/Saturday Night's Main Event etc. Hulk could've faced Dino Bravo to see it had "what it took" to wrestle again after sustaining major injuries.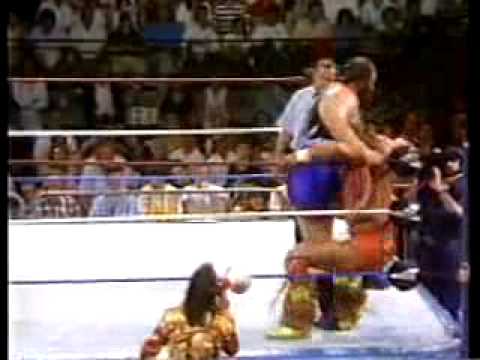 4. PLEASE NO ROAD WARRIORS OR HULK TEAM UP:
Now this became too much at Survivor Series. Warrior leads the Legion of Doom AND the Texas Tornado (especially against a team led by the IC champion, made no sense). I mean it "looks" the part of a "Warrior team", but it didn't feel right. And since it was an elimination tournament that would result in a main event "babyfaces vs. heels", with Warrior teaming up with Hulk and Tito in the end, it was borrowing from the old Mega Powers playbook. Warrior should've been given the main event spot with a mixed team like Jimmy Snuka, Tito Santana, and Jake Roberts who can each bring their own styles and help the Warrior, instead of having a bunch of muscle-bound big guys.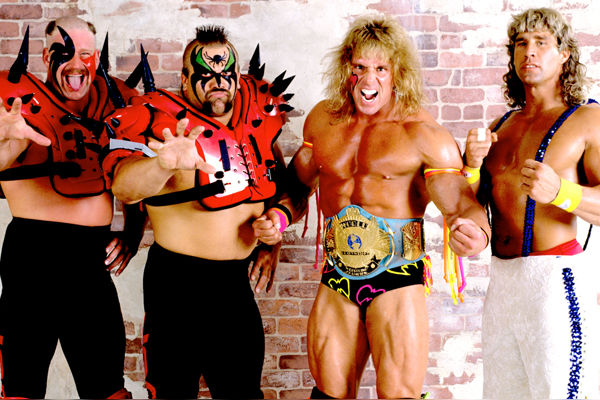 5. WARRIOR IS NOT AN AMERICAN HERO:
Face it a guy from "parts unknown" isn't an American Hero. Okay fine Superman is an American Hero, fair enough, but that role was already with Hulk Hogan, heck even Jim Duggan could fit that role persay. Sgt. Slaughter winning the WWF title was barf. Warrior had no business to feud with Slaughter, at least in a PPV. Instead why not give the Warrior a Royal Rumble win? Hulk didn't need it again! And to top it off this was the beginning of the end of Hulkamania when you think of it, because for the first time, after Hogan wins the Rumble, people start leaving quickly out of the arena perhaps tired of the same old. After WMVI, Hulk didn't need the title to continue on if Warrior was done right.
6. MACHO KING FEUD:
This is not a flop, the end result was excellent true, but some of it didn't make sense. Why in the world wouldn't Warrior accept a challenge from Macho King? It's stupid and makes the Warrior look like an idiot. I'm sure most would agree it should've been Warrior vs. Macho King for the title at WMVII, but it didn't work out that way. At the same time at WMVII, Macho King drops FIVE elbow drop finishers and WARRIOR kicks out of it like WTH. I know it isn't for the title, but what the heck! SUPER INVINCIBILITY MODE!!
7. UNDERTAKER:
If Warrior's run was done the right way, we could've seen a strong 1991 with the Warrior facing Taker as they originally did leading to the end of their feud at SummerSlam 1991 for the WWF title. Thereafter you could have him take on Sid Justice holding unto the title for as long as he could. OR how about INTRODUCE the Undertaker at Survivor Series 1990 where the Warrior is on the babyface team and isn't able to take out Taker except by a countout. Show some damn weakness on the Warrior!
Any other thoughts on why it flopped?