Post by CampCornette on Jun 12, 2019 7:29:33 GMT -5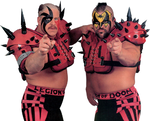 And like WWE, this problem didn't happen over night.  We're 2 years into lines constantly being killed or barely even getting off the ground, stale repaints, missed opportunities on potentially hot figures (Goldberg, Jinder), and overall lack of availability at retail.  They clearly either didn't understand what retailer and consumers want, or don't have the ability to deliver it.  So they handed the keys to the car over to the major retailers, and half way through the year I think the results (and my interest) is as bad as ever.
It's a shame, because from a design perspective I think Mattel has been at the top of their game for the most part.
I agree, and to go a step even further, you say design wise Mattel is on top of their game. if you think about the talent on the roster and how much potential they have and how much most if not all of it is being squandered by awful writing and booking, the parallels are all there. In the combined years they are all on the main roster has Owens, Zayn, Cesaro, Nakamura, Etc had any matches better than some of the ones they've had in nxt? Not to mention Styles Rollins Bryan Richochet, etc etc.
getting back to Mattel, their product is top notch but who is forcing their hand with these bad lineups/lines/case breakdowns? Another Vince?