Post by marklud on Nov 17, 2019 17:43:39 GMT -5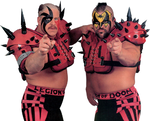 My only real critique is that they had a ton of footage from the OSTM guys, who have a pretty forgettable wrestling footprint. I'm assuming Mattel refused to participate, which fits with their Fort Knox marketing strategy. They ended up spending more time on the handful of years OSTM were making figures that could barely be found in stores than the 2 decades that Jakks held the license.
Totally agree. I get that the OSFTM part was the "hook" -- the best part of the special was how the Galoob-OSFTM/Remco/LJN love triangle led to LJN getting the line and the first big wrestling line. That was AWESOME. But unfortunately they then kept spending too much time on that hook -- a lot of follow-up on the next Galoob/OSFTM figs, which are beloved but not anywhere as important as the entirety of Jakks and Mattel when we're talking about full wrestling figure history here. Those are more of a footnote (as much as I like them) compared to Jakks/Mattel. And then to give Jakks/Mattel just a few throwaway minutes was a mistake.
I totally get that you can't squeeze the history of wrestling AND wrestling figures into a tight 45 minutes, and I get that they're aiming for a more general audience. But just a little bit less general history of wrestling and a little deeper dive into the figs (with more on Mattel/Jakks) and this could've been great. Instead I dug the first 15 minutes and felt the rest was kind "meh." Tried to appease too many parties with nowhere near enough time to do that.