Post by HuskerTornado on May 29, 2021 1:55:20 GMT -5
About to watch both this and A&E's (which I heard also has some asinine shots taken at him).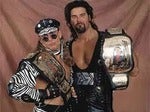 I am glad that Dark Side of the Ring had Warrior's first wife to tell us everything from that era of his life. It was neat, and I legit could tell she wasn't lying or making anything up. She really did love Jim, and it seems she still does to this day.
Having guys like Jim Ross, Jim Cornette and Eric Bischoff on there seemed ridiculous. None of those guys were around Warrior for his 1987 - 1992 WWF run. How could they really know what happened that time frame in the WWF when all three were working for WCW during those years??
Warrior does get a bad calling for saying how bad of a worker he was. He wasn't paid to go out and wrestle like Dean Malenko, he was out there to do clotheslines, shoulder blocks, press slams and splashes and get the 1, 2, 3 and have the fans go home screaming and happy over it.
And honestly, at the end of the day, I would remember Ultimate Warrior for his look than I would for watching someone have these great reversal and moves in a match.
Cornette and JR are completely blinded when it comes to Warrior. Their podcasts did episodes on him in the past year and were some of the most bizarre and denigrating discussions I've heard about anyone, including serial killers. Cornette is a goof a lot of the time and seems to have no idea that character and charisma are pinnacle in getting over. No credit ever for that, he seems to think Vince pulled a magic trick in regards to Warrior, despite the fact he was huge in WCCW and doing car commercials in Dallas as Dingo Warrior. It's a really odd take that he "couldn't talk". Those same people will praise Savage and Hogan's similarly manic promos.
JR seems unable to get past that apparently Warrior used curse words in front of Linda McMahon...as if women are incapable of hearing how people talk? Seeing both in the intro of the DSotR episode, I can tell where it is going.
And his first wife...she tried to get a book published after they divorced full of bs that he was a gay prostitute and all this, zi believe she ended up selling her stories to the Inquirer or some trash mag like that. Maybe she has changed, I guess I'll find out.
Everyone has flaws and no one is a perfect angel, but a lot of stuff has been so taken out of context or is just petty professional jealousy over the years. It really is sad. A shame so many guys like Animal and Hawk, Kamala, Savage, Owen,, etc., etc. are gone and can't contribute stories to these docs.
Anyway, going to start in on these now.