Post by warriorlynx on Aug 3, 2019 16:58:55 GMT -5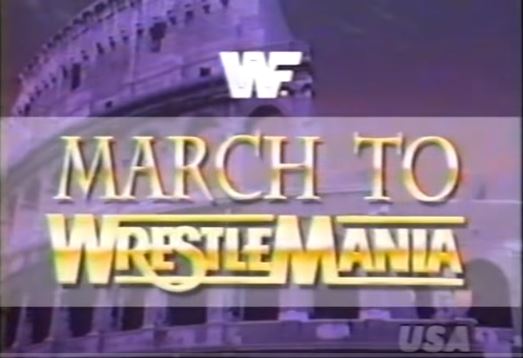 WWF March to Wrestlemania IX
Wrestling Challenge
March 28th, 1993
Hosts: Gorilla Monsoon, Vince McMahon, and Bobby Heenan.
The show begins with Rick Martel flirting with some women (some who didn't mind and some who felt uncomfortable) outside of the arena. Randy Savage finds him and starts beating up on him and it's six minutes of a fight that they're both finally taken out by WWF Officials. Martel later cuts a promo saying that the reason why Elizabeth divorced Randy Savage (first time ackowledged on TV) was because Randy was a bully.
Ric Flair is in the ring with Mr. Perfect (who is in a suit). Jack Tunney and Mean Gene are in the ring for the Contract signing. Bret Hart is called out and he walks out with a bit of a limp, but doesn't oversell it. Bret is in and he sits across Flair. Gene introduces both men.
Flair:
First of all I want to say that I will NOT sign this contract. Because the fact is Jack, Wrestlemania maybe in a few days, but I have no interest in wrestling this nobody. (gets fired up) I'm Ric Flair! I'm the greatest of all time baby, and Bret Hart doesn't deserve to step in the ring...
Bret:
Why don't you just shut up! (fans cheer) You talk about being the greatest, you talk about being the Nature Boy, well let me tell you something Ric, if you really are the greatest, then let's make the stakes higher.
Flair:
Ha there is nothing you can make me say to make me sign this contract! I want high profile matches, I want Hogan, I want Savage, I want anyone else!
Bret:
If I win, you not only relinquish that title to me, but you have to leave the WWF! (gets a pop)
Flair and Perfect start whispering to each other. Perfect tells him not too. Heenan starts to wonder if that's a good idea.
Bret:
Or is the greatest of all time chicken?
Flair:
(laughs) Fine (Mr. Perfect is upset) fair enough, you think you have a chance to beat me, then let's make it happen. If you win Bret I'll leave the WWF ya you heard me I'll leave!
Tunney:
Pls sign gentlemen, after this the stipulation will be added to the match.
Bret signs, thereafter Flair signs. Bret and Flair stand toe to toe till Mr. Perfect grabs a chair and smashes Bret's injured leg! Flair goes for the figure-four but WWF Officials manage to jump in on time to stop him.

Bob Backlund def. Skinner via pinfall.

Kamala (w/Slick) def. Kimchee

Money Inc (c) def. jobbers via pinfall. Hulk Hogan and Brutus Beefcake cut a promo during the match.

Tatanka def. George South via pinfall

The Bushwhackers & Tiger Jackson def. The Beverly Brothers & Little Louie via pinfall

The Undertaker fought Bam Bam Bigelow to a Double DQ