Post by warriorlynx on Nov 8, 2020 11:14:24 GMT -5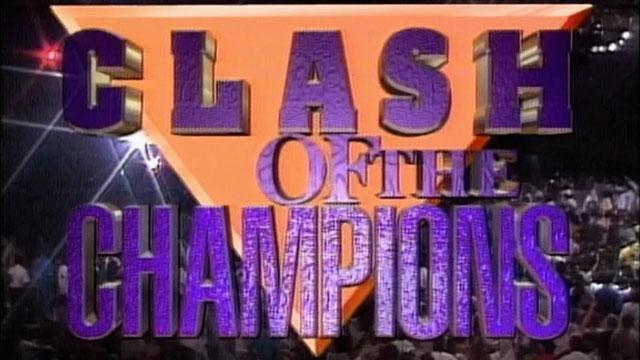 Clash of the Champions XXII
January 13th, 1993
Live on TBS
Hosts: Jim Ross and Jesse Ventura
The Warrior vs. Barry Windham in Singles
Prior to the bout Windham cuts a promo saying that he's going to stop the Warrior and put him "in his place" in WCW. But if Warrior doesn't show up he'll be done for and never be a part of the WCW.
Windham is out in the ring waiting for the Warrior. Warrior doesn't show. Suddenly from the crowd Warrior is walking down the steps as they're on their feet chearing. Windham tells the ref to countdown the Warrior and call the match as a forfeit. The Warrior jumps the railings and gets behind Windham. Windham turns around in shock as the Warrior knocks him down! The bell rings and it's on the Warrior hits the ropes and clotheslines Windham two times before Windham manages to counter the third and land a big powerslam from the ropes.
Windham starts kicking down the Warrior. Warrior gets pumped and is on his feet. Windham starts to choke the Warrior instead. Warrior lands a german suplex and is up. Warrior hits the ropes and lands a big shoulderblock as Windham falls to the outside. Warrior turns to the heavens and chases after Windham who runs. The ref is on the outside trying to get Warrior back in, with the distraction Windham turns around and lands a massive lariat as Warrior falls. Windham pushes the ref and starts working on the Warrior on the outside throwing him into the railings. Windham gets Warrior back in the ring.
Windham starts working on the Warrior, but the Warrior gets pumped up again and starts shaking the ropes. Windham tries to take him down. Irish whip Windham misses the clothesline as Warrior lands a big shoulderblock, and two running clotheslines from the ropes. Warrior lifts Windham up for the gorilla press at 273lbs and slams him! Warrior lands a big splash for the pinfall win!
Winner: The Warrior via pinfall at 8:43.
Warrior celebrates his win and rushes out of the ring quickly. JR and Ventura say what a debut here in WCW and Warrior could be on his way to the top.