Post by The Brain on Jan 4, 2020 17:42:49 GMT -5
Figure we could really get some good discussions from this. This wont be like my gimmick thread where I go from beginning to end but rather just my overall thoughts of said feud. Majority of these will be famous feuds but every now and the I'll throw in some lower tier feuds through the years. Lets begin humanoids!!
Mega Powers Explode!!!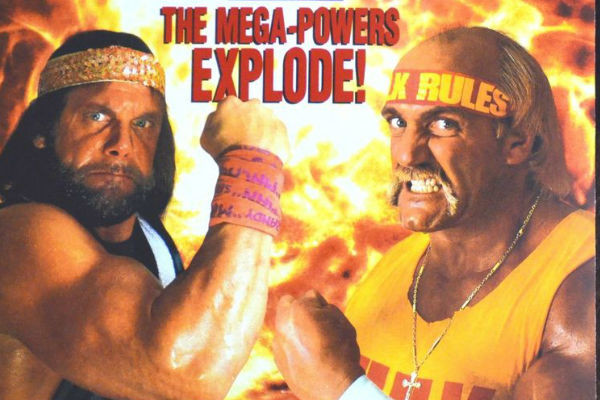 Kicking it off here with an iconic feud of the late 80s. I liked how at WM IV after Savage won the belt you see Hogan pick up Liz with Mach looking like ''What the hell you doing?'' Then at SSlam and SSeries that year they would do the same thing with it being a little more evident Savage was getting pissed with Hogan hugging Liz.When they finally did the turn on SNME in February 89 it was gold. Savage IMO had every right to be ticked off(kayfabe speaking) after Hogan abandoned him in the ring to get Liz help. Ventura on commentary really takes the cake as he pretty much destroys Hogan on commentary for doing it.The promos leading up to WM V man were great from both guys. You really felt the real life animosity between the two shine through here.
The match itself at Mania was very good. Great storytelling with Mach playing the great dastardly heel with him yelling at Liz to leave the ringside area plus you had Hogan bleeding here which for this era didn't happen often.No surprise in the winner but still great, great stuff here from an angle that started during Fall of 87 and reached the climax in April 89! Storytelling at it's finest that's for sure.
Feuds Discussed:
Mega Powers
Warrior/Rude
Harts/Bulldogs
Sting/Flair
Bret/Shawn
Savage/Roberts
Bret/Austin
Savage/Warrior
Flair/Funk
NAO/LOD(#10)
Martel/Santana
Dusty/Macho
Yoko/Taker
Rude/Piper
Tugboat/Earthquake
Boss Man/Heenan Family
Bret/Lawler
Hogan/Bundy
Bret/Razor
Garvin/Valentine(#20)
HBK/Martel
Luger/Tatanka
HBK/Taker(2009)
Harts/Demo
Luna/Sherri
HBK/Bulldog
Honky/Macho
Warrior/$ Man
Flair/Piper
Raven/Dreamer(#30)
Savage/Duggan
Hogan/Piper
Taker/Berzerker
Money Inc/Natural Disasters
Hogan/Slaughter
Cornette/Paul E.
Doink/Crush
Demo/Strike Force
Jake/Andre
Jake/DiBiase(#40)
Demo/Busters
Shawn/Marty
Disco/Wright
Hardys/E&C
Hogan/Zeus
Sable/Luna
Warrior/Shango
Sandman/Cairo
Jake/Martel
Rock/Mankind(#50)
Hogan/Quake
Taker/Brock
Rude/Sting
Rude/Steamboat
Bigelow/Tatanka
Taker/Diesel
Bret/DiBiase
Funk/Douglas
Hogan/Orndorff
Savage/Flair(#60)
Rockers/P&G
Austin/Rock
Demo/Connection
Jake/Rude
Sabu/Taz
LOD/Disasters
Von Erichs/Freebirds
Yoko/Quake
Flair/Douglas
Sting/Hogan(#70)
Herc/DiBiase
Austin/Pillman
Andre/Warrior
Taker/Hughes
Mega Powers/Mega Bucks
Demo/POP